THE PEOPLE
Who is behind this project?
Nicole: At the source there was Xavier. He discovered this diamond-in-the-rough, was seduced by it and committed to doing whatever was needed to unleash its potential. After that, Jean-Louis, Bénédicte (his brother-in-law and sister) and I all got bitten by the bug. Today the four of us all contribute in different ways to the wines, but we share the commitment and the contagious passion.
So it's the vision of the four of you?
Nicole: Actually, our whole team is viscerally involved in what we're trying to accomplish. La Verrière is a place where people come together and share the best of themselves, and I'm convinced that comes through in the wine — the whole is greater than the sum of the parts. Each one of us is part of La Verrière's ecosystem. And we're keen to continue sharing our experience and exchanging knowledge and ideas with other passionate people. You never stop learning and growing as long as you retain humility and an open mind, and you're not afraid of hard work!
That requires a broad world view
Nicole: There is a very inclusive dimension to our project, as reflected in our motto. I have been thrilled by the integrative experience of our project. That's to say: for some, wine is simply business; for others, it's purely art. For us it's a multidisciplinary opportunity to pull together the best of the place and the team to express our collective life experiences and values.
XAVIER ROLET
Proprietor, Master Beekeeper
What's your background?
Xavier: My professional life has always been in the international financial arena in the USA and the UK. However, I am a Frenchman by birth and the happiest parts of my youth were spent in the countryside, which is what drew me so strongly to La Verrière. I love this land and its soothing constancy - a perfect antidote to the thrills and stresses of the financial markets.
So setting up a wine estate was not part of your original plan?
Xavier: Actually, it represents the chance crossroads between four factors: a life-long enjoyment of nature, my longstanding appreciation of wine, the chance opportunity to purchase this estate and a gradual realization of the potential of the terroir and, with that, the compulsion to create something exceptional.
What is your role in the project?
Xavier: My professional responsibilities keep me elsewhere, but I am very fortunate that my wife and close family have taken such an interest in the project so that I can entrust it to them. Twenty years ago, I could never have guessed that today they would be so deeply absorbed in the production of fine wines from a state-of-the-art winery. This gives me peace of mind that they are carrying forward our vision better than I could ever have hoped.
How did your interest in wine begin?
Xavier: As an enthusiastic consumer, although members of my family have been successful wine producers for several generations. I highly recommend their Rolet Arbois, the famous wine of the Jura, the Crémant Rolet, also from the Jura, and the Michel Laroppe wines from Côtes de Toul, north of Champagne.
Today, Chêne Bleu has clearly become a passion.
Xavier: Yes! And it has also for our committed team. We are determined to produce the very best wines as an expression of our exceptional terroir. We are also creating a healthy, sustainable environment for us all, as anyone who has spent time at La Verrière can testify.
NICOLE SIERRA-ROLET
Principal, Senior Plate-Spinner
What's your focus at Chêne Bleu?
Nicole: I manage all the activities beyond the viticulture and winemaking. I make the link between Chêne Bleu and the outside world, traveling to exchange ideas and share our wines with others who share our passion.
What's your background?
Nicole: My professional life was in publications, banking and think-tanks in the USA and in the UK. My parents are French-Italian and American. As a child, I attended French lycées in New York and Milan and I have also spent time in Germany, Spain and Brazil. From my parents, I inherited a strong appreciation of different cultures, and a willingness to look for the best of anything everywhere.
How did you get involved?
Nicole: I was gradually seduced by the project and drawn into its orbit – it was a bit like being mysteriously drawn up into the mountain in Picnic at Hanging Rock! Initially intrigued, I eventually decided to devote all my energies to the success of the venture. Today, my passion for it knows no bounds.
Where did you learn about wine?
Nicole: At Vassar College, I discovered my lifelong love of learning, which gave me the courage to take the plunge and "re-engineer" my professional goals from international relations, public policy and finance into those of a wine professional. In pursuit of this, I have attended various levels of the Wine and Spirit Education Trust certificates, and the Wine Executive course at UC Davis in California, but the best learning has been in the winery, with Jean-Louis, our winemaker, my brother-in-law.

JEAN-LOUIS GALLUCCI
Winemaker, Cellar Master, Chief Problem-Solver
What makes a good winemaker?
Jean-Louis: Like good wine, it's a blend - hard work at all hours, observation, and tasting, tasting, tasting, and then tasting again. I believe it is also really important to be open-minded and flexible, so I listen to and take the lead from the wines.
What makes you so attentive?
Jean-Louis: In winemaking, I am endlessly enchanted by the fascinating relationship between art and science. I have much to learn from talking with the world-class oenologists who advise us, but in the end, I listen to the wines. They love to tell their story, talk about their moods and sometimes, like children, they scream for attention!
How did you get into wine?
Jean-Louis: My father's family comes from Italy, my mother's family are from the Loire, and used to make wine in the Vouvray Appellation.
I myself was born and brought up in Nice, where I studied management and accounting. However, I was bitten by the winemaking bug when I moved to live at La Verrière with my wife Bénédicte, who is Xavier's sister, in 1998. I feel that I have 'returned to my roots.'
Where did you learn the ropes?
Jean-Louis: I went to college to study the theories of oenology and viticulture, and to build on my natural tasting abilities. I then worked in various Domaines: in the Côtes du Rhône at Domaine St Claude, in Châteauneuf-du-Pape with top producer Domaine de la Charbonnière, and in Côtes du Ventoux at Domaine Champlong with Christian Gely, who is one of the leaders of that specific Appellation.
BÉNÉDICTE GALLUCCI
Viticulturist, Mrs. Fix-It
What makes a good vineyard manager?
Bénédicte: You have to be thoughtful, attentive and committed in your work. Nowhere is our "no shortcuts" philosophy as exacting and exhausting as in the vineyard. If you ever are tempted to cut corners, you pay for it at harvest time and beyond! Conversely, the vines come to need you and love you, and reward you with their best fruit.
Why isn't it for everyone?
Bénédicte: You need real physical strength, but stamina is just as important. It's demanding, non-stop work, going out in all weathers. It gets really cold, windy and snowy here in the winter, and it can be 40 degrees in summer. I also think you have to be really meticulous. I need to know each vine as well as I know our children, and treat each one as an individual.
Do you just manage the vines?
Bénédicte: No - you also have to be a whiz at doing your own tractor and equipment repairs. We're so isolated there's no one to come and help out. It's tough on the hands — I hope the Queen of England doesn't come to check my nails!
Exceptional Team
We are backed up by an exceptional team of colleagues and family.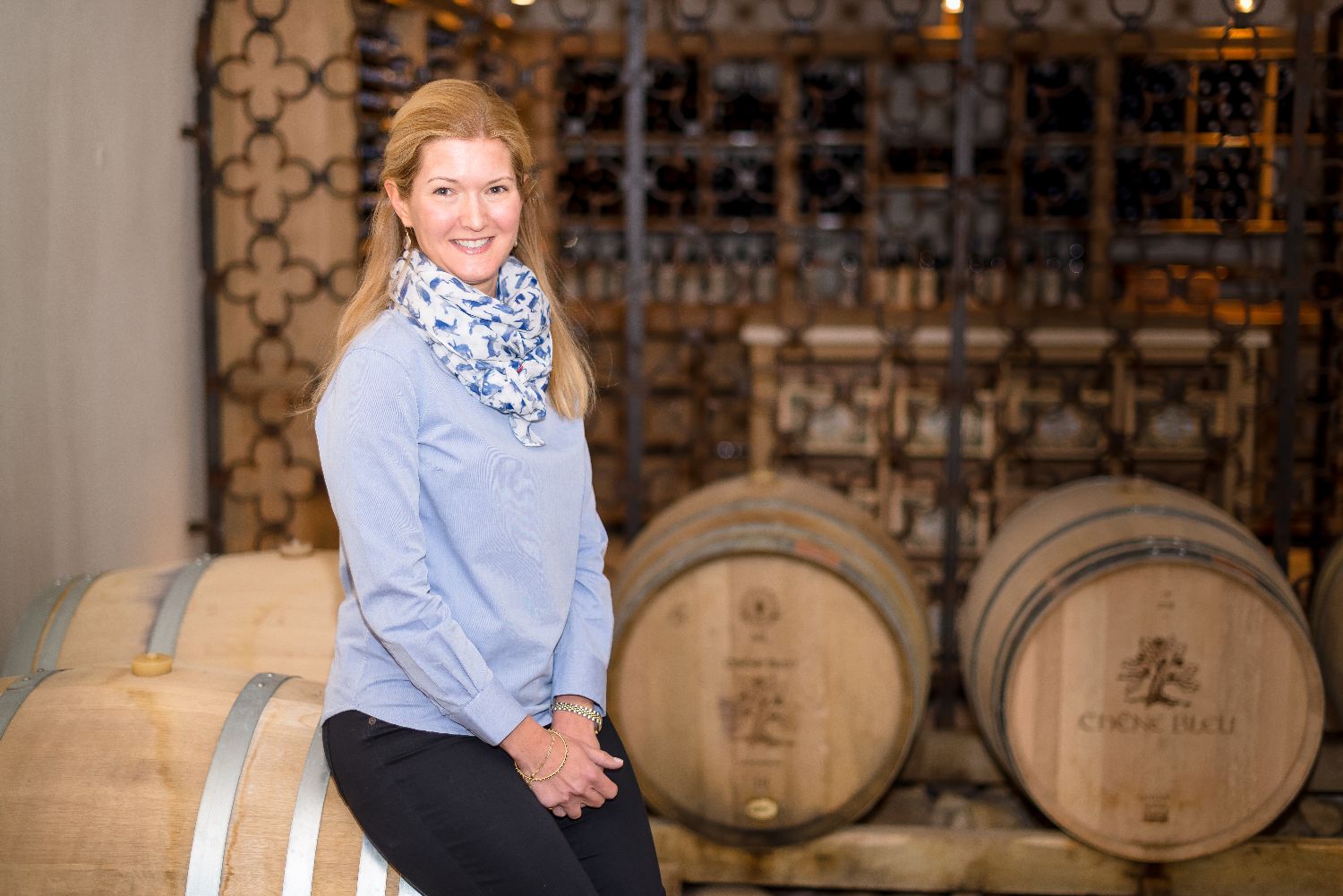 Laura has been working with Chene Bleu since its creation in 2005. After beginning her career in finance in New York and London, she obtained an MBA degree at INSEAD in France and then a Diploma from the WSET in the UK. She met the Rolets while working in London for what is now Treasury Wine Estates - overseeing market research, new brand development and UK/European sales strategy. Now a Partner and Director at Chene Bleu, Laura is involved in strategic and financial planning, as well as overseeing North American sales.
other and past collaborations
We are very fortunate to have enjoyed the advice and support of fantastic experts in the wine world. We are delighted to introduce some of them here.
Zelma Long is a generous and inspiring adviser to the team at Chêne Bleu. She is one of the world's most renowned winemakers, who stands out for her genuine, thoughtful and hands-on approach at Chêne Bleu. Formerly Chief Winemaker at Robert Mondavi Winery and Chief Winemaker and CEO at cult-status Simi Winery in California, Zelma now makes her own wine, Vilafonté, in South Africa. She limits her consultancies to a handful of projects in Napa, Sonoma, Washington state and Israel.
Philippe Cambie is the highly respected oenologist famed for his expertise in Rhône varietals. We have greatly benefited from the subtlety and attentiveness of his advice to us.
Thomas Oui, a collaborator of Philippe Cambie, works regularly with Jean-Louis Gallucci giving hands-on advice.
Clive Barlow MW is a Master of Wine, consultant and educator. He has developed with us and taught the curriculum for our Chêne Bleu Extreme Wine Experience. He is an experienced judge at wine awards such as the International Wine Challenge and Decanter Awards and was recently director of the Institute of Masters of Wine.
Sarah Jane Evans MW is a Master of Wine, writer and broadcaster, with additional expertise in cheese and fine chocolate. Her integrated approach to the better things in life has been an inspiration. She is a recipient of the Robert Mondavi Winery Award. She judges at wine shows internationally including the International Wine Challenge and Decanter Awards.
Claude & Lydia Bourguignon are internationally renowned microbiologists specializing in soil analysis and "living soils". They advise top vineyards around the world on soils and plantations. Mr Bourguignon has a PhD and a degree in Agronomist Engineering. Mrs Bourguignon holds a Masters in Science and a degree in Oenology.
Andrew Murray is a young Californian winemaker from Santa Barbara with a passion for Rhône varietals and a stellar track record of his own (weblink to article). His early support for our project was very helpful.
Doug Margerum is a very well known and a successful wine-maker, negoçiant and restaurateur from Santa Barbara with extensive experience with Rhone varietals.